Our Feet First Friday
On the 7th of February 2020 our TY Green Schools committee held a day called Feet First Friday in hopes to get our fourth Green Schools flag for sustainable travel as a part of An Táisce's programme. With the help of Ms Purcell, our Green School Co Ordinator , Roisin Garvey from An Taisce and our TY students we encouraged students and teachers to walk, cycle or park and stride to school. No cars were allowed to enter the school gates.
There were drop off points at Centra, Bodyke Hurling pitch, Scarriff hurling pitch and the handball alley in Tuamgraney. All participants got a ticket on the day and were entered into a raffle for some hampers supplied by the school council. What a great prize for a great cause. It was a lovely sight to see not one car in the school car park. We are now onto the second year of our journey towards receiving our Sustainable Travel Flag. We would like to thank Scariff GAA Club, Bodyke GAA Club, the school Council and the Gardaí who helped us make the day such a success. There was a great community spirit which we hope will be instilled for our second Feet First Friday which we will host this year.
By Caitriona Apsel and Leana Spazzi
The 7 Steps    To a Green Flag: 
Step 1: Green Schools Committee 
This is a committee that can include students and teachers. This is where we come up with our ideas and discuss possible upcoming projects. 
Step 2: Environmental Review 
This is where we evaluate the sustainability of the school to find where we can improve and better our school environmentally.  
Step 3: Action Plan 
This sets out our targets, goals and the completion dates to help in our success. 
Step 4: Monitoring & Evaluating 
Here we check the progress towards targets/goals, where we can make adjustments if needed and encourage ongoing work. 
Step 5: Curriculum  
Curriculum materials are provided that give ideas on how to incorporate environmental issues into class time. 
Step 6: Informing and Involving 
This is where we update on our school website to inform the community involved. Assemblies can also be held to raise environmental awareness in our school and allow anyone who wishes to become involved. 
Step 7: Green Code 
This is a statement of the school's commitment to environmental good habits.  
🌍 The Travel Flag🌍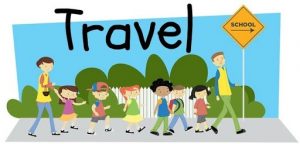 During 2019/2020 over 4,000 students in Ireland cycled to school and 300 bike parking spaces were installed.
Working towards this flag, so far, has been a wonderful opportunity for our school. It brings the community together and encourages a healthy lifestyle. We are working on bringing awareness to the school and community about the environmental impact hundreds of cars have.
When possible, please try cycle, walk, carpool or park and stride to school to help us get closer to the Travel Flag one step at a time!
😀🚴🚶🌲🚌🌎
BIKE WEEK
At the end of September, Scariff Community College took part in National Bike Week, as part of our Green Schools Travel Flag. The Green Team held a competition to encourage our community to cycle.
Students were given the opportunity to create a poster, picture, poem or slogan to motivate all of us to cycle. There were a substantial 126 entries which was great to see.
There were many excellent prizes to be won and free bike services were also available thanks to Clare Sports Partnership and Clare County Council.
Congratulations to Abigail Harrington for receiving first place for her slogan that read –
         "Save the planet. Walk with me, but keep your distance, to stay Covid free."
💚🌲🌎🚲