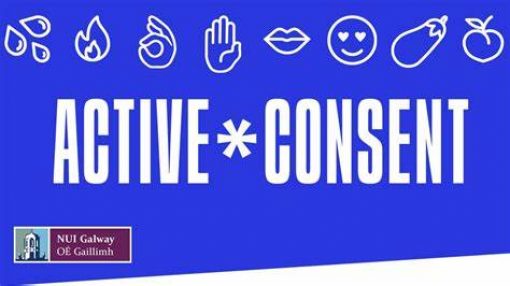 Active* Consent Programme – Student Workshops & Parent/Guardian Seminars
Scariff Community College is delighted to be involved in the Active*Consent Programme. This programme will be rolled out to all our Senior Cycle students in the coming weeks – with workshops for 5th years & for 6th years planned for before Christmas; and for TY students in Spring 2022. Parents/Guardians – please read the information below which has been provided by our co-facilitators NUIG. We ask that as many parents/guardians of TY, 5th & 6th yrs attend the seminar so that we can together best support our young people.
Parents/guardians of SCC students have a choice of three dates for this online seminar which will be facilitated by NUIG – Thurs. Nov 11th or Thurs. Nov. 18th or Tues. Nov. 30th. Parents/Guardians are required to register in advance via the relevant link below and Eventbrite will send a reminder and the zoom link.
11.11.2021: https://www.eventbrite.ie/e/active-consent-parent-guardian-seminar-tickets-203726400147
18.11.2021: https://www.eventbrite.ie/e/active-consent-parent-guardian-seminar-tickets-203759328637
30.11.2021: https://www.eventbrite.ie/e/active-consent-parent-guardian-seminar-tickets-203762116977
About this event
Parents & Guardians are the most powerful and primary source of values and knowledge for their children. However, many of us struggle to equip our children to explore and develop their independence in a social context where they may encounter sexist banter, sexting, revenge porn, sexual bullying and a rising number of sexual assaults.
The Active*Consent programme, based in the School of Psychology in NUI Galway, has been working for over 10 years with young people aged between 15 and 24 years, educators and parents to develop important resources to support our children. All these resources are based on Irish data and we work alongside young people to ensure that our workshops and other resources are engaging, relevant and effective in raising awareness, sharing knowledge and skills.
We have been providing workshops to first year college students since 2016; reaching almost 17,000 students with our online workshop in 2020. In March 2020, we piloted our workshop for secondary school students responding to demands from parents, young people and teachers for the reform of the RSE programme and the need to educate our children about sexual consent. Well-taught RSE gives essential tools for life, strengthening young people's ability to make conscious, satisfying, healthy and respectful choices within their relationships and to stay safe both on and offline. Plus, when young people are healthy and happy, feel safe, and secure in school they do better.
Talking about sex and relationships does not encourage young people to go out and have sex. On the contrary consent skills are essential when it comes to intimate interactions where the consequences of getting it wrong is the difference between sharing a positive intimate experience and having an abusive experience. We need conversations about consent to become as ordinary as putting on a seat belt.
Our work is funded with the philanthropic backing of Lifes2 Good Foundation and RETHINK Ireland. Despite the impact of Covid-19 on the education system, we continue to adapt and deliver our programme. We are already working with schools across the country, who have helped us survey TY and 5th Years, piloted the workshop before lockdown and, teachers have been working with us to get trained to co-facilitate the workshop either in Covid friendly ways in class or now all online. Teachers in your school will be working with us to co-facilitate the school workshop. So, before the workshops roll out we would like to share with you why and what we are planning to deliver; then, if you wished, you could continue the conversation and discussion at home.