You can support the development of our Astroturf Sports Facility by donating
your desired amount at the links below.
If you do not have a Way2Pay account, you can select "Quick Pay" to check out
without completing the registration process first.
ABOUT
We, at Scariff Community College, are excited to share our plan for the development of an Astroturf Sports Facility on our school grounds, which will greatly enhance the Health and Wellbeing of our entire community. A facility of this kind has been a dream of ours for some time; now we plan to make it a reality, and we need your help.
This flood-lit & all-weather facility will be useable all year round and will prove to be of huge benefit and value, not only to us as a school, but also to people of all ages in our local communities across East Clare.
Thanks to our dynamic team within the school who are working tirelessly to advance this project, we have successfully raised approximately 40% of our target.
Our Christmas Draw 2021 raised €18,790 which is testament to the generosity of our local community
A Fashion Show held in October 2022 generated €21,007
Sports Capital Programme Grant – €133,268
10% of SCP Grant being matched by Limerick and Clare ETB
Now, the challenge is to raise the balance of the cost of this project as a team effort between our school and our community. The projected cost is in the region of €400,000.
We are currently reaching out to businesses and organisations in the local area to explore opportunities to develop mutually beneficial relationships and secure further funding/sponsorship.
If you, your business, or a business you know of is in a position to help, please contact us at sccastro@lcetb.ie.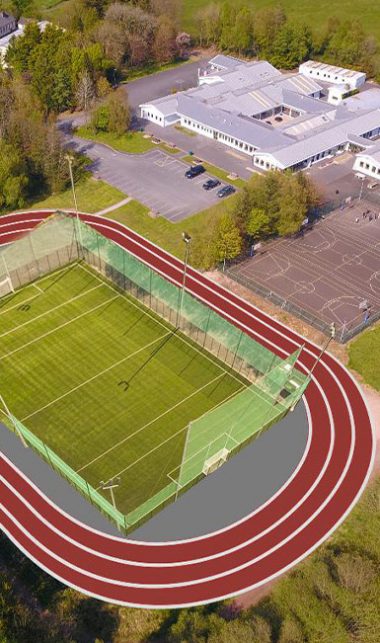 BENEFICIARIES
Beneficiaries of this project will be:
Athletics groups
PE classes
Camogie & Hurling teams
Soccer & Rugby teams
Local primary schools
Active Aging groups
Community Games
We envisage huge opportunities for local groups to avail of this facility.
Limerick & Clare ETB Registered Charity Number 20083830
Christmas Bumper Raffle 2021
With the support of our students & local community, a hugely successful draw was held in December '21 raising €18,270 for the project
Fashion Show October 2022
With the support of a number of parents a Fashion Show was held in our school raising a profit of €21,007 for our Astro Fund
Sports Capital Programme
We were delighted to learn in February 2022 that we were successful in our application for Sports Capital Funding to the tune of €133,268. We are thankful to the Department of Tourism, Culture, Arts, Gaeltacht, Sport and Media for such a great boost to our fundraising efforts.
We are also very grateful to Scariff RFC who partnered with us in this application and we look forward to working with this dynamic club into the future.
Corporate Social Responsibility
If you manage or are employed in a company that would like to build a partnership with our school we would be delighted to hear from you.
We will be very happy to offer a Pitch-Side advert and Web site promotion on our school page & social media platforms.
CSR increases brand awareness and recognition and in addition creates a positive image in the minds of consumers and improves business reputations locally.
Your company can then claim a tax deduction of 12.5% as if the donation was a trading expense.
Please contact us at sccastro@lcetb.ie for more information on pitch side advertising & other details.
Private Donation
We have many past pupils and friends of SCC over the years who might be happy to donate directly to our new Sports Facility.
If this is the case, please contact us at sccastro@lcetb.ie
PROGRESS
We have been successful in our Planning application with permission granted for this All Weather Sports Facility by Clare County Council in April 2021.
Click to View Planning Decision
Our team have been researching similar Astroturf developments and their contractors to ensure the best facility will be provided for our students and local community.