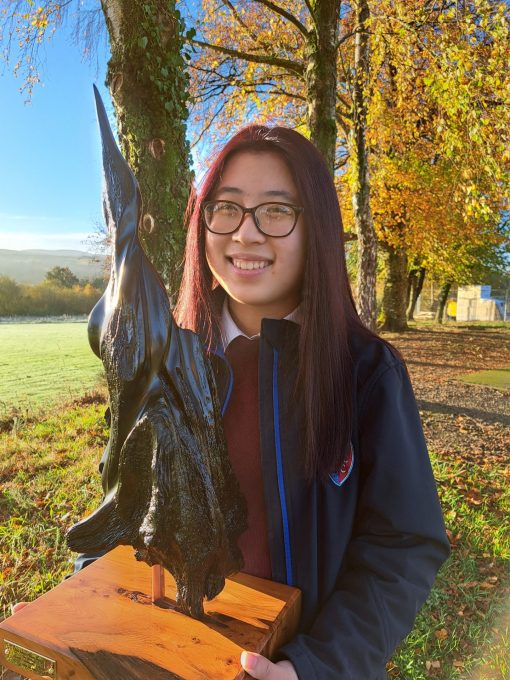 Edna O'Brien Writers Award
Huge congratulations to sixth year student, Emily Chen, who yesterday, was presented with the very first Edna O'Brien Award for Writing in Scariff Community College. The gathered audience of students and writers listened in awe as Emily read her palindrome poem, "They Say", one way and fellow student Femke Nijs read it in the opposite direction. 
The school are very grateful to bestselling novelist Roisin Meaney who spoke beautifully on the craft of writing and the power of poetry, before she presented the award to Emily. 
The award, a magnificient bog oak sculpture, was funded by Creative Ireland and by local artist Ian Kelly, himself a past pupil. Emily is also the recipient of 100 euro.  
 Via video message, writer Donal Ryan praised the quality of Emily's work and that of Aisa Borotai and Izzy O'Brien, both winners of "highly commended" medals. He also expressed his delight that The Edna O'Brien Perpetual Award for Writing is now in existence. 
 Ms. Colleran reminded students to watch for details of the 2023 competition in the weeks before Christmas and that entries can be in any genre, including short story, poetry, drama (script), monologue, personal essay or journalistic article.