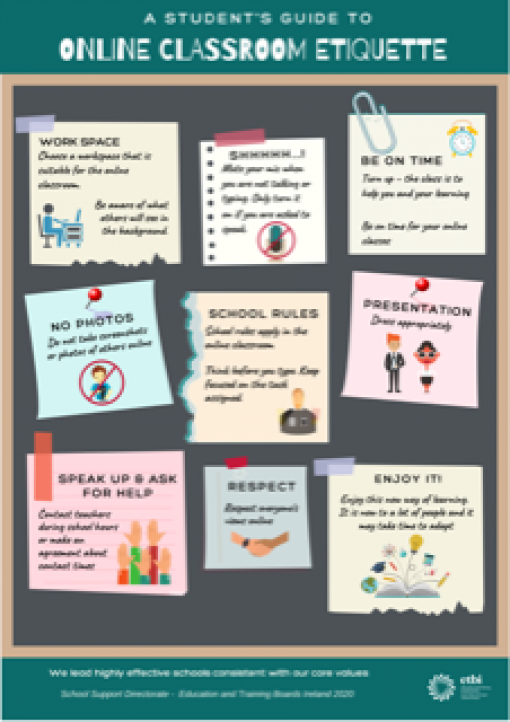 Remote Learning – notice for parents/guardians
Dear Parent/ Guardian,
As per the recent government decision, school buildings will remain closed until the end of January and all classes will move online to remote learning.
How we will support your child/children
We appreciate how challenging the Covid-19 crisis has been for families, and particularly students.  Please rest assured that we are working hard to support all students and parents/guardians in our school community as the pandemic evolves.  We have learned a lot since March 2020 and this will stand to us all as we work through the next few weeks.
Everyone in our school community is prepared for Remote Learning in an effort to fulfil a continuity of learning in the coming weeks. Our focus these past months has been on upskilling everyone – staff and students – to be more proficient and comfortable with the school's excellent Learning Management System – Microsoft Office 365. All our students have had Digital Learning classes throughout the past few months in order to ensure that they can use the platform without issue.
Meetings of Year Heads/Care Team, Additional Educational Needs Team, Student Support Team etc will take place as usual during the closure in order to support students and teaching and learning. Students can also 'chat' message Principal, Deputy Principal, Year Heads, Guidance Counsellor or any member of staff as required if they require support.
Assessing Teaching and Learning in our School – the next three weeks
Classes will run online via our school's remote learning platform MSTeams.
Students can log-on using a laptop, tablet or phone. Apparently gaming consoles such as X-box or Playstation and Smart tvs also can be used to access teams. If your son/daughter has difficulty with a device or access to same, please contact us.
Classes will start at 9am Monday 11th Jan and classes will run as per usual school timetable.
Students should be up early and adhere to usual routines including breakfast. They should have a workspace set-up and their timetable, books and materials to hand and be ready to log-on. Headphones may be useful when in voice call or listening to recorded classes so that outside noise is minimised and sound quality will be better.
Your child will have a blend of on-line 'live' classes, 'flipped learning' lessons, recorded classes, assignments and homework.  Individual teachers will communicate relevant information in this regard to their respective students.
Every morning students should be logged into MSTeams and have clicked into the relevant class team. For anyone not familiar with teams – every class group and subject has a corresponding Team. This 'Team' comprises of the teacher and the students in the class.
Students are encouraged to actively participate in each class/team and communicate with teachers.
Students can 'chat' (private message) a teacher if hesitate to ask questions on general post which can be seen by others.
Attendance and engagement will be monitored.
Student attendance and engagement will be monitored. If a student cannot attend a class for any reason, he/she should 'chat' the relevant teacher. We understand some may have difficulty following the usual timetable due to other commitments in the home or an issue with devices. Students are asked to please make contact with his/her Year Head or the Deputy Principal or Principal if this is the case and we will work together with you on this.
Online etiquette is important for all.
Each year group will have an assembly next week and students will be reminded about online etiquette. MSOffice 365 and MSTeams is provided by the LCETB as a platform for educational purposes only.  Teachers and students need downtime each day for wellbeing so we as a school community will aim to keep our normal school hours as the hours of communication in so far as possible.
Students in Sixth Year and Third Year
We are especially mindful of any school closure and how it affects students in Sixth Year and Third Year regarding the Leaving Certificate and Junior Certificate examinations.
Our school is represented at national level at the Stakeholder Group meetings with the Department of Education by Limerick and Clare Education and Training Board, and we will ensure that challenges that arise will be addressed by the group.
The State Examinations Commission has been requested to look at all of the timelines and elements of the practical examinations, submission of project work and the oral examinations.  We will communicate any updates to students and yourself as we are appraised of same.
Students facing examinations are asked to keep focused and to keep working in preparation for the exams.  More details will be forthcoming in the near future regarding the Leaving Certificate and Junior Certificate examinations and we will bring this information to your attention without delay.
Contacting the School during Closure
The school office is closed. If you have need to contact the school, please email scc@lcetb.ie and we will address your query as soon as possible. This email address is monitored by our school secretary who will respond or pass on the query to the relevant person.
The support of parents/guardians during this period of remote learning is especially important.  If any student is having difficulty with remote learning or with keeping up with work etc., please contact us asap. This period will be challenging and we want to be able to support everyone as best we can.
If any student is unwell or there is illness or any other issue in the home which would impact upon your son/daughter's ability to engage with remote learning at any point, please let us know. This information will be dealt with sensitively. You may prefer to send such information directly to the Deputy Principal or I – our email addresses are below.
Thank you for your continued support of our school and we look forward to being in contact with you soon again.
Wishing you and yours a happy, safe & healthy new year 2021,
Angela McNamara                       Angela Russell
Principal                                         Deputy Principal