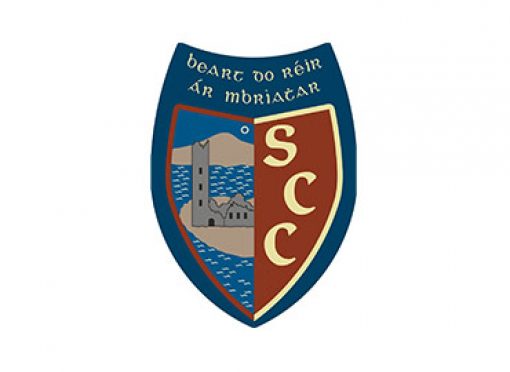 SCC School Uniform 2022 – a reminder
School Uniform: All students are expected to present in full school uniform. We respectfully ask for parental support in ensuring same.
SCC jacket -Students are not allowed wear other non-uniform jackets/outerwear over their uniform while in school or on school grounds. Supplier: All Seasons sport www.allseasonssport.ie. Tel 086 3872928; email: carmel@allseasonssport.ie Cost of school jacket €50
SCC O'Neill's Colorado half-zip top -This can be worn as part of the daily/normal school uniform. It can be worn in addition to, or instead of, the wine school jumper. This addition to our uniform is being phased-in. It is compulsory for first year & second year students for 2022/23. These two year groups will need it for PE and extra-curricular purposes. However, all students of any year group are welcome to purchase and/or wear same. (Some sizes are currently out of stock – supplier expects that Colorado half zip top age 10-11 and size Small will be available to purchase online by the end of next week (2nd Sept) and size Medium half zip tops are due into stock 5th September. Delivery date for stock age 13 to be confirmed.)
Supplier: O'Neills. Only available online at Scariff Community College Online Shop | O'Neills GAA (oneills.com). 
Wine school jumper with crest. Supplier: Fine Rags, Killaloe & Corbett's, Tulla
Navy school trousers or Navy full-length school skirt (Please note denims, leggings/jeggings or tracksuit bottoms etc. not allowed). (Skirt available from Fine Rags, Killaloe. Not available from Corbett's, Tulla)
White shirt or white polo shirt. (Blue was an option up to current school year but this is being phased out. Any students from second year up, who have blue are welcome to continue wearing them – however, please choose white when purchasing new shirts/polo shirts).
Dark-coloured footwear/trainers
Uniform – Physical Education/extra-curricular activities: All students in all year groups are required to wear t-shirt, dark-coloured (navy or black) sportswear bottoms and suitable footwear for PE. First year & Second year students will also need SCC O'Neills Colorado half-zip top for PE and for other extra and co-curricular activities. There are other options for PE available from O'Neills online shop such as a Colorado school PE kit t-shirt (which is advisable for PE) – however, these other items are not compulsory at this time.
Please ensure that all uniform items are labelled/clearly marked with student name.