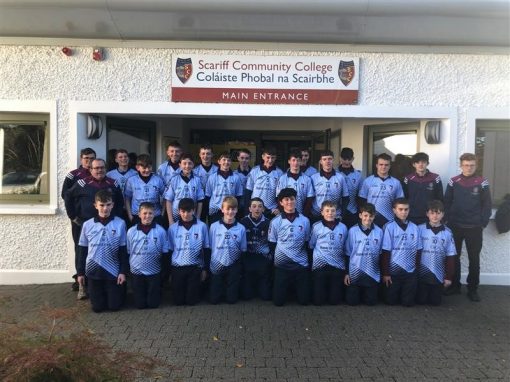 U15 Hurling PPS – "Thursday nights under lights
Tonight marks the beginning of the u15 Clare Post Primary Schools Hurling Competition. Best of luck to our students.
The game will be played in Tulla under lights at 6.30 pm on November 4th.  Follow our school Instagram page scariffcc_sport for match updates.
U15 Hurling Team Sheet vs St Annes
1st Round PPS Hurling vs St Annes Killaloe in Tulla GAA Field @6:30
Matthew Crotty – Scariff
Sean Maher – Ogonnelloe
Harry Collins – Scariff
Cormac Gunning – Broadford
Dylan Joyce – Bodyke
Sean Óg Kilkenny – Bodyke
Oisin Mc Mahon – Broadford
Jack Madden – Scariff
Eoin Nugent- Scariff
Oisin Madden – Scariff
Jake Gibbons – Whitegate
Donnacha Crotty – Scariff
Paul Rodgers – Scariff
Liam Heffernan – Whitegate
Michael Vaughan – Scariff
Tom Tuohy – Whitegate
Ronan Fitzmaurice – Bodyke
Liam Tuohy – Scariff
Jack Muggivan – Whitegate
Eoin Whelan – Whitegate
Cathal Dooley – Whitegate
Dylan Lynch – Ogonnelloe
Matthew Ryan – Whitegate
Michael Kelly – Whitegate
Kiernan Turner – Whitegate
Neil Dermody – Whitegate
Evan Kelly – Whitegate
Fiachra Mc Namara – Broadford
Managers / Trainers
Andrew Fahy – Whitegate
Shane Mc Grath – Feakle
Sean Mc Namara – O'Callaghan's Mills