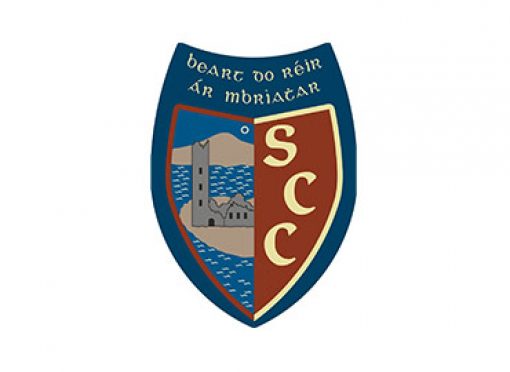 Updated Covid-19 measures from Monday 28 February 2022
Parents/guardians, staff and students are advised that the Government has accepted the recommendations of NPHET. Therefore, as staff and students return to school after the midterm break on Monday, 28 February 2022, social distancing measures and face-masks will no longer be required in school settings.
However, the risk to health, remains very much a reality, and the importance of all staying well and minimising disruption to schooling for the remainder of term, remains a priority.
So, all in our school community are asked to continue to do what can be done to keep our school safe.
Staying at home if you have symptoms
The requirement to stay at home if you have symptoms remains – for students and staff alike. One of the key messages to manage the risks of COVID-19 is to do everything practical to avoid the introduction of COVID-19 into the school. If infection is not introduced, it cannot be spread.
Hand Hygiene
We will continue to promote good hygiene. Hand hygiene can be achieved by hand washing or use of a hand sanitiser (when hands look clean). Funding will continue to issue to schools for the purchase of PPE, including hand sanitiser.
Face coverings/mask wearing
It is no longer a requirement for staff or students to wear a face covering/mask in school. However, staff and students can, of course, continue to wear a face covering/mask if they wish to do so on a personal basis. The school will continue to make masks available on request as previously.
School transport and Face coverings/mask wearing
With effect from Monday 28 February, the wearing of face coverings/masks on school transport will no longer be mandatory but will continue to be advised. All other measures relating to hygiene (including the provision of hand sanitiser and additional cleaning of services) and pre-assigned seating will remain in place subject to further review.
Ventilation
This remains recommended as continued and best practice in terms of infection control. We will continue to make every effort that classroom temperatures will be as comfortable as possible. However, as up to now, students are advised to wear SCC school jacket/SCC half-zip/SCC jumper and/or extra layers under uniform as required in order to stay warm.
Cleaning and Hygiene in schools
The Department of Education has provided additional funding to schools to support the enhanced cleaning required to minimise the risks of COVID-19.  This will continue for this academic year and will be reviewed in advance of the start of the next school year.
Thank you all for your on-going support and efforts to keeping our school community safe.
Angela McNamara & Angela Russell