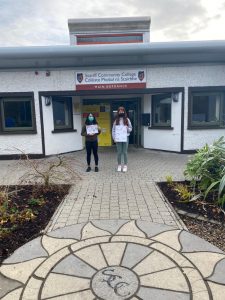 Scariff Market Square Feasibility Study:
Transition Year Student's Emily Chen and Megan Kilkenny who this week presented submissions to Scariff Town Team as part of a feasibility study for the development of the Market Square in Scariff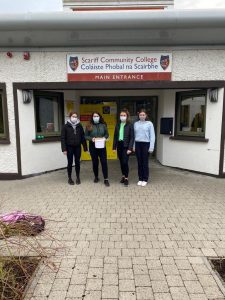 Students Fundraiser for Women's Aid
Transition Year Students Sarah, Fiona ,Labhaoise and Roisín  who are raising money for Women's aid this November by taking a break from their phones for a week. Great cause girls and well done.
Atlantic Youth Programme 
Scariff Community College Ty's and Scoil Mhuire Ennistymon attended a virtual zoom call with the Youth Atlantic program. We really enjoyed this experience because we learned a lot about the ocean and sea life and how much we as humans depend on the ocean. They also touched on global warming and how much it's affecting the PH of the ocean and the oceans ecosystem. Overall we enjoyed this experience and would recommend it to TY students in the upcoming years.
– Amy Healy TY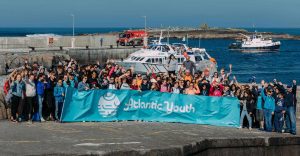 Darren Ward Fitness :
The TY's took part in an 8 week training program with fitness instructor Darren Ward. Darren's workouts were both mentally and physically challenging but we were left feeling accomplished and motivated after every session. The workouts consisted mainly of endurance training, circuits and strength conditioning. At the end of the program everyone's fitness and strength had improved tremendously and the students were satisfied with the results of all their hard work over the 8 weeks.    by Maeve Mc Faul