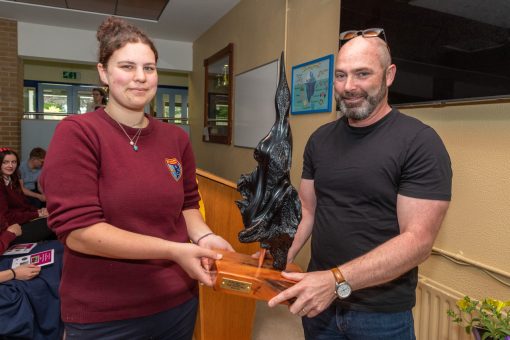 Edna O' Brien Award 2023 Scariff Community College
Last week we were honoured to have author  Donal Ryan  come to our school to present the SCC Edna O'Brien Awards 2023 Congratulations to our three Finalists, Ciara Cooney, Emily Chen and Eyla Lienhard. We are thrilled to welcome Donal and a host of other writers including Roisin Meaney, Luke Morgan and Fiona McGarry.
Congratulation to Eyla Lienhard winner of the 2023 Edna O'Brien Award for her poem, "Lost in Sound".Eyla is the winner of the Edna O'Brien perpetual trophy, a beautiful bog oak sculpture created by local artist, Ian Kelly, 100euro cash and a place on a two day poetry-film workshop during the Mountshannon Arts Festival. Well done Eyla!
Copy of the Programme and the winning piece by Eyla and the two Highly commended enteries from Ciara Cooney and Emily Chen below. A very special thanks to Natasha Barton Photographer for the beautiful images she took on the day .